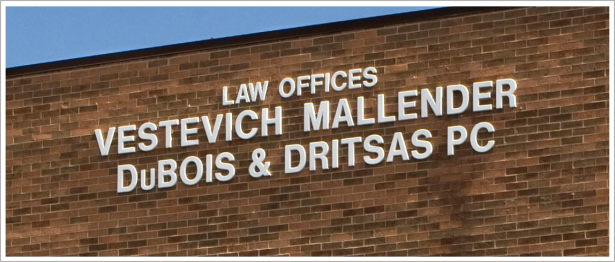 The law firm of Vestevich, Mallender, DuBois & Dritsas, P.C. has a proud history of providing effective and insightful legal services to generations of clients in Michigan and across the nation. Our firm's long history is a tribute to our success in meeting our primary goal -- client satisfaction.

Doctors, lawyers, accountants, military personnel, judges, police and fire personnel, civil service and government employees, factory workers, employers and other professionals have come to us for legal guidance. We are experienced and skilled trial lawyers, and our attorneys routinely appear before administrative agencies and participate in mediation and arbitration dispute resolutions.

We offer experience and expertise in a broad range of areas including corporate law, estate planning, probate, divorce, litigation, personal injury, real estate, taxation, intellectual property, trade regulation, creditor rights, employee benefits, computer and environmental law.

Vestevich, Mallender, DuBois & Dritsas successfully combines the positive aspects of smaller and larger law firms. Like larger firms, we provide our clients with expertise in many areas of the law. Like smaller law firms, Vestevich, Mallender, DuBois & Dritsas, provides personal service to our clients in a cost-effective manner. Our clients receive excellent, experienced legal counsel, in a personal relationship.